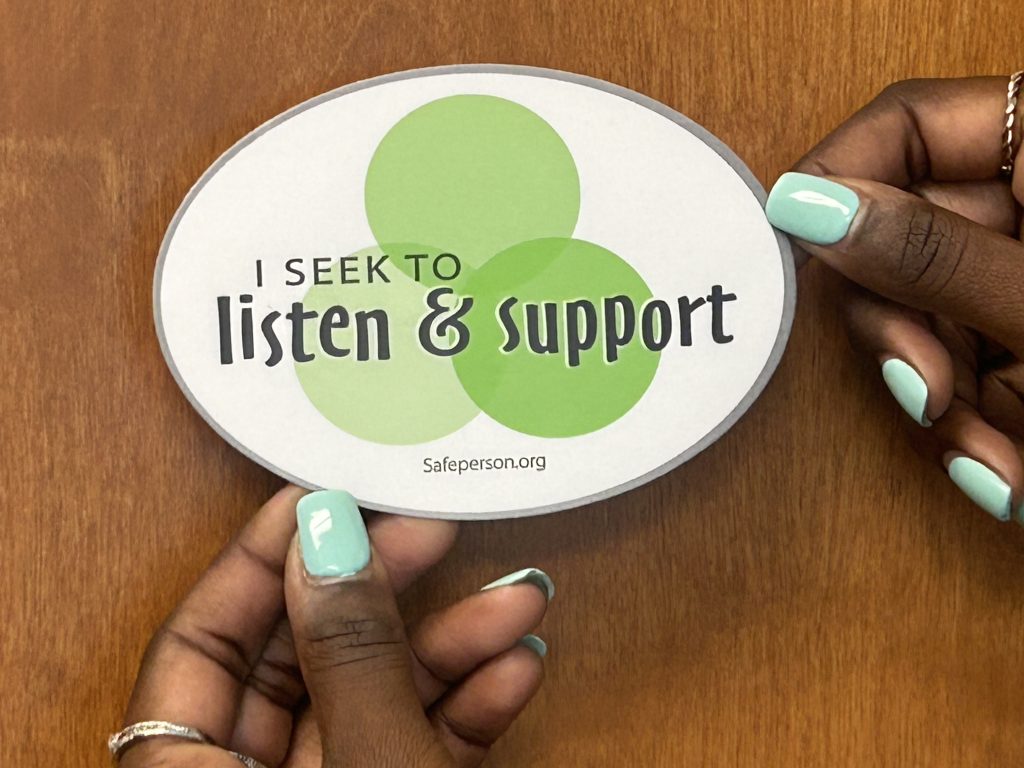 By displaying the Safe Person Decal, you show your commitment to listen and support others through the 7 Promises. Become a beacon of hope and understanding for those in need.
Thank you for your interest in supporting our cause by displaying the Safe Person decal. We're currently facilitating decal orders through our email, wise@eliminatestigma.org. Your dedication to promoting hope and understanding is deeply appreciated.
To request your decal(s), please include the following information in your email:
First Name
Last Name
Email Address
Organization (if applicable)
Street Address
City
State
Zip Code
Date Needed
Quantity (up to 25 decals are free of shipping charge)

Please note, if your order exceeds 25 decals, we kindly ask you to cover the additional shipping costs, or you may opt to pick them up at our office. Also, let us know whether we're shipping to a residential or business address, and specify your decal language preference: English or Spanish.
ACKNOWLEDGE THAT REACHING OUT FOR SUPPORT IS A STRENGTH.
LISTEN AND REACT NON-JUDGMENTALLY.
RESPOND IN A CALM AND REASSURING MANNER.
REFLECT BACK THE FEELINGS, STRENGTHS, IDEAS I HEAR WHEN LISTENING.
ASK HOW I CAN BE HELPFUL AND RESPOND AS I'M ABLE.
DO WHAT I CAN TO CONNECT TO OTHER SUPPORTS IF ASKED.
MAINTAIN CONFIDENTIALITY AND COMMUNICATE IF EXCEPTIONS EXIST.